Feedback and Complaints Procedures for Service Users
If you do have feedback or comments about any aspect of our work, you can contact Spinal Injuries Ireland in writing, by letter or email, or by telephone. In the first instance, your comment will be dealt with by the CEO, Fiona Bolger. The nature of the query and who is involved will then decide how the issue is dealt with after that.
Please provide us with as much information as possible and let us know how you would like us to respond, providing relevant contact details and information.
For any feedback matters, please write to:
Fiona Bolger,
Spinal Injuries Ireland,
G3 The Pottery,
Bakers Point,
Pottery Road,
Dun Laoghaire,
Co. Dublin.
Tel: (01) 6532180
Email: [email protected]
We are open 5 days a week from 9.00 am to 5.30 pm each day.
For more information on the Fundraising Principles, see http://www.ictr.ie/content/fundraising-codes-practice
CHY 11535
SERVICE USER'S COMPLAINTS POLICY
1 PURPOSE
The aim of the Comments and Complaints Policy for Services is to provide a simple, clear and accessible process that allows clients, families, carers, significant others or public to bring a complaint to the attention of the SII's management.
The complaint, or comment, will be treated in a fair, objective and efficient manner to maintain a quality service. (It cannot be used as an alternative or additional complaints mechanism to SII's grievance and disciplinary procedures, which deal with the relationship between SII's employees and management.)
2 WHAT IS A COMPLAINT?
A complaint may relate to a decision or action regarding SII, or to carrying out one of its functions which, it is claimed, is not in accordance with the rules, practice or policy of the organisation or the generally accepted principles of equity and good administrative practice, or if it is felt that it adversely affects the person concerned, or if a complainant believes that he/she was dealt with in a discourteous, impolite, abrupt or curt manner.
(Ref Health Act 2004)
Some complaints arise from a breakdown in communications and usually these complaints are quickly resolved when the facts, evidence or circumstances have been established. It is important, nevertheless, that we operate a fair system that gives people the opportunity to make complaints to the organisation, and that they are dealt with effectively.
3  WHO CAN MAKE A COMPLAINT?
Any SII client can make a complaint if they feel that:
They have been unfairly treated by
A service that they feel they are entitled to is not being
A service which is being provided is
A decision made is considered wrong and did not take into account all the
A request for a service or information has been ignored or unreasonably
4 HOW COMPLAINTS CAN BE MADE
Complaints can be made through:
4.1 Written
4.2 Email
4.3 Verbally (face-to-face or telephone communication)
A Service User Complaint Form, refer section 9.7.1, is available and should be returned to the appropriate complaints officer, but where a complaint is relayed verbally the appropriate complaints officer will make a written record of the complaint on the form so that it can be properly monitored, recorded and investigated.
5 TREATMENT OF COMPLAINTS
Complaints will be taken seriously. Each complaint will be treated fairly, sensitively and in confidence as much as possible. All complaints will be handled with an open mind and investigated without prejudice. Complaints will be dealt with promptly in an attempt to resolve them as quickly as possible.
6   PROCESS FOR THE MANAGEMENT OF COMPLAINTS
SII's process for the management of complaints consists of four stages:
6.1        Stage 1 – Local resolution of verbal complaints at point of contact:
The  appropriate  complaints  officer  considers  if  informal  resolution  would  be appropriate. Resolving the issue informally will involve:
Listening to the individual
Discussing the complaint and related
Identifying issues / exploring the reasons for the
Agreeing possible actions to be
6.2        Stage 2 – Local investigation of written and serious complaints:
6.2.1            Stage 2a – Informal Resolution:
The complaints officer considers if informal resolution would be appropriate (not suitable in cases of serious written complaints).
6.2.2            Stage 2b – Formal Investigation:
The  appropriate  complaints  officer  carries  out  a  formal  investigation, completes a report and makes recommendations.
6.3       Stage 3 –  HSE Review
The complainant may seek a review of the outcome through the HSE Head of Consumer Affairs. He/she will appoint a review officer to carry out a review of the complaint. The complainant and complaints officer will be informed of any decision of the review officer and may accept the recommendations made or can seek a review of the complaint by the Ombudsman.
Head of Consumer Affairs, HSE: Oak House, Millennium Park, Naas, Co Kildare.
6.4       Stage 4 –  Independent Review (Ombudsman)
The complainant may refer the complaint for external investigation to the Ombudsman. An employee has the statutory right to complain directly, but the Ombudsman will usually only consider their complaint after it has been looked at under the complaints procedure outlined above.
Office of the Ombudsman, 18 Lower Lesson St, Dublin 2.
6.5       Acknowledgement of a Complaint
In the case of a verbal complaint, a verbal response will be issued as soon as is practically possible, but at most within five days. The details of the verbal complaint should be written up and shared with the complainant to ensure an accurate record of their complaint has been captured, to avoid any ambiguity.
For written complaints, the complainant will be notified in writing within five working days that the complaint has been received or assigned, and it will be outlined what steps will be taken to investigate the complaint.
Where the complaint will be investigated, the complaints officer must endeavour to investigate and conclude the complaint within 30 working days of it being acknowledged.
If the investigation cannot be concluded within 30 working days, then the complaints officer must communicate this to the complainant and the relevant service/employee within 30 working days of acknowledging the complaint and give an indication of the time it will take to complete the investigation.
The complaints officer will update the complainant and the relevant service/employee every 20 working days.
6.6       Advocacy
All complainants have a right to appoint an advocate, i.e. family member, friend, work colleague or a legal professional, to assist them in making their complaint and to support them in any subsequent processes in the management of that complaint.
Definition: Advocacy is speaking, acting and writing with minimal conflict of interest on behalf of the sincerely perceived interests of a disadvantaged person or group to promote, protect and defend their welfare and justice by:
Empowerment of the person where
Respect for the person and his/her
Acting in the person's best
Acting
Maintaining
Acting with diligence and
(The above is taken from section 2.2, Principles of Advocacy as prescribed by the Citizen Information Board, October 2007).
6.7       Complaints Management/ Personnel
It is the responsibility of the Complaints Officer to oversee the complaint handling process in SII and to maintain records of complaints.
The Complaints Officers in each service are detailed below. It is their responsibility to ensure that this policy is adhered to in cases of complaints within or related to their service.
At the Complaints Officer's request, or in circumstances where the Complaints Officer is the subject of the complaint, the investigation will be carried out by another Complaints Officer within SII
6.8       SII Complaints Officers
To submit a complaint regarding SII or SII Support Services, the complaints officer is:
6.9       Time Limits
A complaint must be made within 12 months of the date of the action giving rise to the complaint, or within 12 months of the complainant becoming aware of the action giving rise to the complaint. The complaints officer may extend the time limit for making a complaint if it is their opinion that special circumstances make it appropriate to do so.
The complaints officer will give a decision of extending/not extending time in writing to the complainant within five working days of making a decision.
6.10       Matters Excluded
A complaint is excluded if it is in relation to any of the following matters:
A matter that is or has been the subject of legal proceedings before a court or
A matter relating solely to the exercise of clinical
An action taken by SII solely on the advice of a person exercising clinical
A matter relating to recruitment or
A matter relating to or affecting the terms and conditions of a contract of
A matter relating to the Social Welfare
A matter that could be the subject of an appeal under section 60 of the Civil Registration Act
A matter that could prejudice an investigation being undertaken by the Garda
A matter that has been brought before any other complaints procedure established by law
e.g. Complaints Process under Part 2 of the Disability Act 2005.
6.11       Support for Service/ Employees
Sensitivity must be shown to employees that are the subject of a complaint. If an employee is unhappy with the outcome they may use SII's grievance procedure. Refer section 8.3 
6.12       Vexatious Complaints
A complaints officer may stop investigating a complaint for various reasons, for example, if he/she deems the complaint to be trivial, vexatious or both. A complaint is vexatious if it is made with the sole intent of causing annoyance to the person complained of or if, once it has been investigated, it is repeated or maintained. The making of a vexatious complaint shall be a disciplinary offence.
6.13       Recommendations
SII will endeavour to maintain an effective complaints procedure which offers a range of timely and appropriate remedies to enhance the quality of service to the clients of SII. The complaints officer will endeavour at all times to make recommendations designed to resolve the complaint, and to ensure effective quality improvements. These recommendations will be submitted to the CEO for review and approval. The CEO will brief the Board at the next scheduled meeting.
6.14       Monitoring and Evaluation
SII monitors and evaluates complaints about the organisation on a regular basis and seeks to make ongoing improvements. Regular reports will be submitted to the CEO.
6.15       Bi Annual Reporting to the HSE
SII is required under the HSE Service Level Agreement, Schedule 8 (Complaints) to submit a general complaints report on a bi annual basis to Elaine Ahern ([email protected]). The reports are submitted on the 'Your Service Your Say Complaint Statistics Template'. Any queries arising from the templates will be followed up by the Consumer Affairs Area Officers. Refer section 9.7.5, for guidance on completing the Your Service Your Say Complaint Statistics Template. 
Contact Details for HSE Consumer Affairs:
Susan Kenny Consumer Affairs Officer, HSE Dublin Mid Leinster, Oak House, Limetree Ave., Millennium Park, Naas, Co Kildare.
Ph.045-880494 or [email protected]
6.16       Comments and Feedback
SII aims to provide services that meet the needs and expectations of our clients and families in a professional and supportive manner. We continually strive to improve the quality of our services. We value feedback and suggestions regarding facilities, employee and services. Any information or feedback we receive will be taken seriously, we will always strive to improve. Part of the way we review our work, including the services we provide, is through feedback we receive, and we will always strive to address issues of concern as they may arise.
6.17       Review
To ensure best practice and adherence to HSE requirements the Service User's Complaints Policy will be reviewed by SII on an annual basis.
7            SERVICE USER FORMS
7.1      Service Users Complaint Form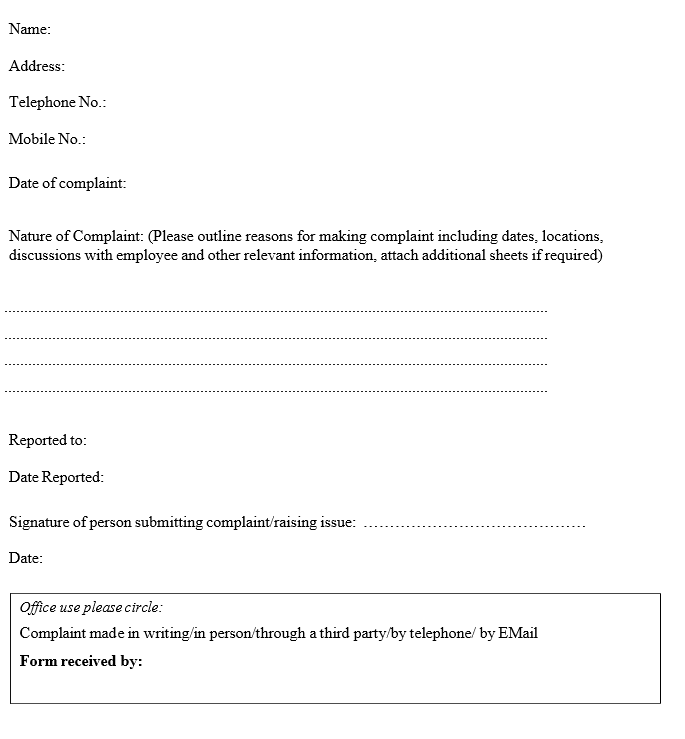 7.2     Service Users Complaint Investigation
To be completed by Complaints Officer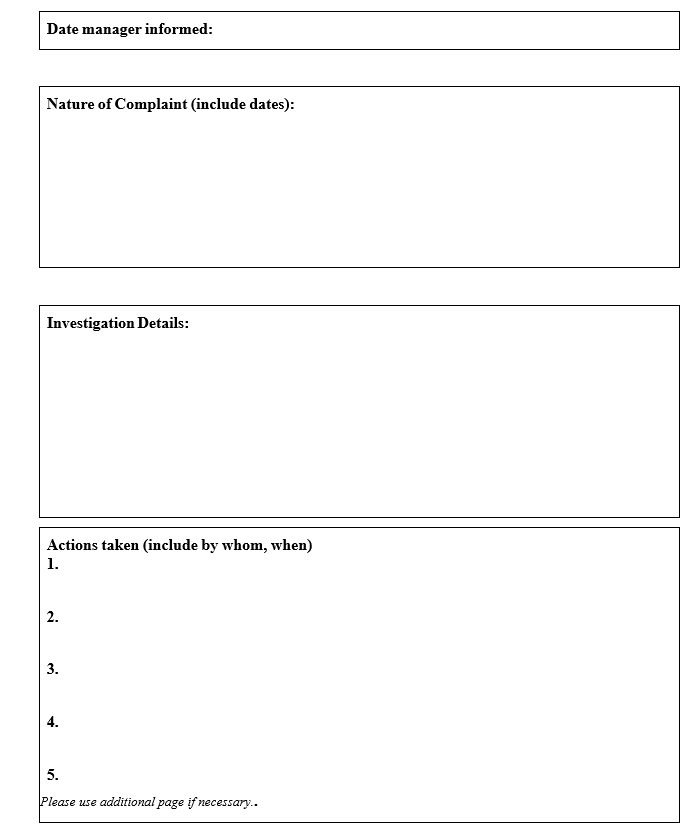 7.3     Service Users Verbal Complaint Process Graph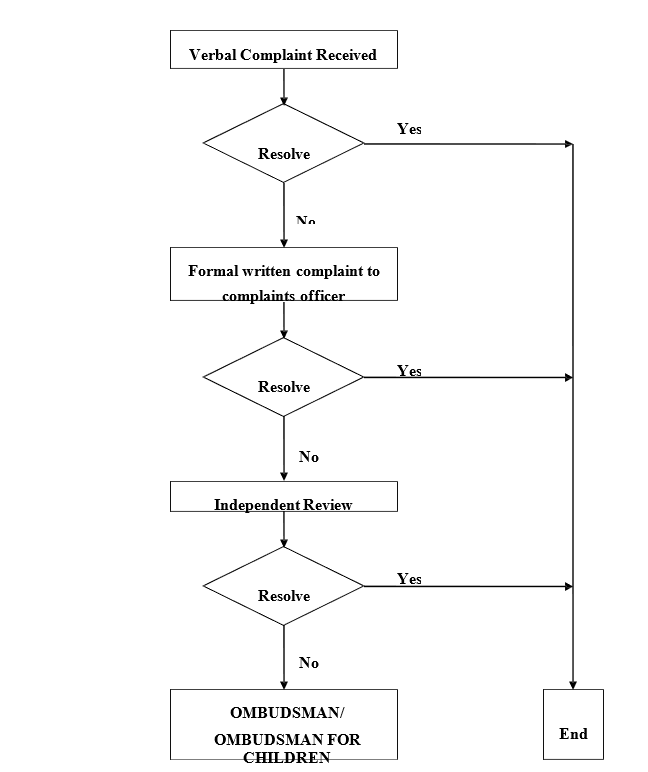 7.4     Service Users Formal Complaint Process Graph
7.5     Your Service Your Say Complaint Statistics Template Guide

Complaints received pending at end of last month: This section refers to the number of complaints that are on hand at the beginning of the month before the receipt of any new It is a direct correlation to the number of complaints that are on hand at the end of the previous month. This field will automatically be populated by the system once the first month of the year has been entered, therefore it will not require further attention from the complaints officer from February onwards.
Complaints received this month: This is the total number of all complaints received by the complaints officer for the month in
Total Complaints on hand current month: This figure is a total of the previous two columns and will automatically be entered when columns (i) and (ii) are
Complaints Excluded under Part 9 of the Health Act 2004: Complaints that fall outside of the scope of the complaints policy as detailed under Part 9, Section 48, g. a matter that is or has been the subject of legal proceedings before a court or tribunal.
Anonymous Complaints: Complaints that have been received but for which the source of the complaint is unknown, or if the person making the complaint does not wish to have their details As these complaints cannot be formally investigated they are noted as being received and referred to the appropriate line manager for their information.
Complaints dealt with at Stage 1: Stage 1 of the complaints process deals with informal complaints (verbal) that are dealt with at the point of contact
Complaints Withdrawn: This refers to a complaint that has been noted on the system, but which subsequently is withdrawn by the complainant – no further investigation is
Complaints dealt with within 30 working days at Stage 2: Stage 2 of a complaint refers to a formal written complaint. If the complaint has been finalised within the 30 working day guideline and no extension of time is required then it is noted in this
Complaints dealt with within 60 working days at Stage 2: If a formal written complaint has not been finalised within the 30 day timeframe it then falls into this category once it has been dealt with within 60 working Any complaints that have taken longer than 60 working days do not fall into this category.
Complaints pending at end of month: This category will automatically be populated by taking the totals from sections (iv) to (ix) and subtracting them from section (iii). As a complaint officer, you do not have to complete this
Informal mediation used: Regardless of which stage the complaint has been dealt with, if mediation has been used it should be noted This will not have a bearing on the overall totals as they are included in sections (iv) to (ix).
Comments/Suggestions: Any comments or suggestions received by the complaints officer should be noted here.
Positive Feedback: All positive feedback received back regarding a service should be included in