Volunteering with SII – David Sparrow's story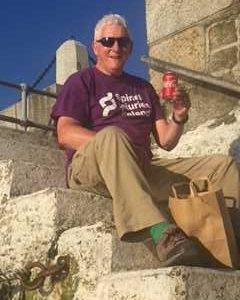 Witnessing a man sustain a spinal cord injury 16 years ago led David Sparrow to become a volunteer with SII. "I remember it well. It was in 2002 and I was the coach of a local rugby team. I was the coach of the second team and we'd just finished playing our match and we were standing on the side lines watching the first team play. Ciaran, the guy who was injured, was a member of the first team and the whole thing happened right in front of us."
Ciaran was going for the ball and he slid down, fell on the ball and they all piled on top of him. We knew straight away something bad had happened and the match was stopped immediately.  "He was taken to Tullamore and then up to the Mater Hospital. He ended up in the Mater Hospital for a few months as he had to have an operation, and he was then transferred to the National Rehabilitation Hospital in Dun Laoghaire for further physiotherapy rehab."
David recalls the effect of seeing Ciaran suffering his spinal cord injury and how it changed things for him and for some of the people on the rugby team.  "It did effect everybody and it affected me. It especially effected a lot of people in the club. A lot of the players gave up actually after that, they said they didn't want to run the risk of it happening to them. So, it did change things for people."
Over the years, David said he thought about what happened to Ciaran and he explains that he always wanted to help in some way. "I thought, if there's any way that I can give back from that point of view, it would be great."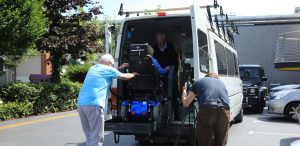 When David retired six years ago, he was looking for an organisation he could volunteer with and fate stepped in.  "After I'd retired and settled down into my new routine, I was thinking about what I could do during the day time to help out. My wife saw an ad in the local paper which said that Spinal Injuries Ireland were looking for volunteer drivers to drive clients and service users to activities and appointments and I thought that sounded really interesting. I thought it would be a great way to give back especially since a spinal cord injury had visited my life in the past."
As a volunteer bus driver for SII, David collects patients at the NRH and brings them to different places such as the clients home, rib trips with SII, and social trips out to give patients a break from the hospital environment. David also picks SII clients up from their homes or nursing homes and brings them to hospital appointments, Aviva sports matches, and other SII outings.
As a SII bus driver, David supports our service users by offering a good listening ear, a chat, and fun day out as he always likes to bring a smile to everyone's face.  "I really enjoy it, I feel like I'm giving back something. It's nice to be able to give what you can to relieve the problems and the anxieties of the people affected by a spinal cord injury. And I do love it, I love getting on with all the SII clients and we have a laugh from start to finish. I always keep it very light hearted from that point of view. It's a pleasure to drive the bus for SII."
David volunteers for SII regularly and he explains he always tries to be available when he's needed.  "I volunteer when I'm needed. It can be busy at times or it can be quiet at times and it does depend on whether I'm available to do it. I found that since I've been retired I'm available a lot more, which is handy because some of the other drivers might be working during the week. Whenever I am available I'll say yes and I will always do it as often as I can.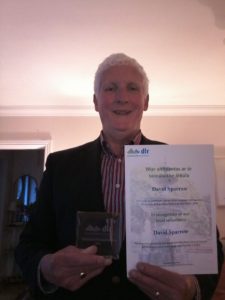 "I love working with the staff and volunteers at SII. They do a great job and it's always a pleasure to get to know the SII clients."
Ciaran McCarthy, from Dublin, went on to write a book about his experience of living with a spinal cord injury called 'I Will Walk Alone'. It is available to buy on Amazon and chronicles his life after he sustained his SCI.
Have you a story to share? Email: [email protected]