Exploring the Wild Atlantic Way
As part of our 2021 virtual conference, Michael Hennessy Cullen, a Spinal Injuries Ireland (SII) service user who has been living with a Spinal Cord Injury (SCI) for 16 years, together with his wife Leona gave a fantastic presentation on recreation and the great outdoors. Like so many others, this outdoorsy couple like nothing better than heading off somewhere and going off the beaten track. The husband-and-wife team collectively highlight the highs and lows of manual wheelchair access throughout Ireland through their online platforms @thestruggleiswheel on Twitter and Instagram.
The struggle is wheel started two years ago in 2019 with a focus on accessible hikes. The project was inspired by the couple's honeymoon in California where their eyes were opened to see how good accessibility can be – if done correctly!
View the video here:
Michael's T9/T10 SCI following a road traffic accident in 2005 affords him a unique and informed insight into the everyday challenges facing a wheelchair user in accessing everything from hotels to beaches to hiking trails all around Ireland – equally and if not more importantly what himself and Leona can or cannot access collectively as a couple.
Exploring the Wild Atlantic Way
The webinar which Michael and Leona presented was broadly themed on Exploring the Wild Atlantic Way. Reviewing three vastly different types of accommodation from three different counties for accessibility, they also reviewed the accessibility of local attractions during the presentation.
County Donegal – A midrange hotel option.
Describing it as a midrange hotel, the Radisson Blu in Letterkenny was where the couple stayed during their County Donegal trip.
First impressions count and while parking was good with three large accessible bays, they point out how it could be excellent with just a little more forethought and a minimal amount of work. Check in was a pleasant surprise thanks to a lowered reception area. Leona describes a lowered reception area is "a rarity in Irish hotels" but it helps ensure the often-laborious paperwork experience is without discrimination, and equally as tedious for guests of all abilities.
Too much clutter with too much furniture was what greeted the couple when entering the "accessible" bedroom. In Michael and Leona's experience this is generally an issue with most hotel bedrooms. Unsurprisingly, wardrobe rails were out of reach for a wheelchair user.
In the bathroom Michael was disappointed to find the advertised wheel under sink was inaccessible due to an inappropriately placed towel rail, a simple but very obvious issue. Again, a very common issue was the fixed shower seat which was very narrow – this issue could be so easily overcome by hotels, by making a universal shower chair available on request to customers with a disability.
These were all common observations and by no means unique to this hotel which they found to be generally satisfactory in the grand scheme of things.
Tracks and trails in County Donegal were described as being "amazing" by Leona. Boardwalks enabled them to take in fantastic beach views as a couple, something that's not very often an option.  The Donegal Boardwalk Resort and The Ards Forest Sand Dune Trail were generally elevated, ensuring both environmental friendliness along with spectacular views could be enjoyed by the couple.
County Clare – An accessible mobile home
The Green Acres Camping Site at Loop Head provided the accommodation during their County Clare trip. Perhaps not an obvious choice for a wheelchair user but this mobile home left the couple almost lost for words when praising it describing it as "top of the range" with a "host of in-built accessible features better than most hotels" – "fantastic space for the chair" when describing turning circles.
Despite it having the size constraints of any mobile home, the bathroom facilities were described by Michael as being "second to none". Clever design at this unusual accessible accommodation showcase what is possible with foresight and planning.
Tracks and trails in County Clare immediately bring the Cliffs of Moher to mind. While a wheelchair accessible viewing point is provided at the attraction, it's at the top of a hill with a very challenging steep gradient – a huge effort required even with a clip-on motor assisting.  After all the effort of getting to the viewing point there's what Michael describes as a "difficult and disappointing viewing experience" to be had. Leona describes how the nearby Kilkee Cliffs have good accessible parking and provide a much better experience with much less effort and more reward when you get to the viewing point. This is a perfect example of the value of resources such as @thestruggleiswheel for research – where you can gain invaluable first-hand information and tips before undertaking any trip.
County Cork – Castlemartyr Resort Hotel, A five star option
Finally, The Castlemartyr Resort Hotel was the base for Michael and Leona for their Co Cork adventure.
The concierge service provided by most high-end establishments can provide an unseen bonus for wheelchair users, something that Michael and Leona have observed in the past. In Castlemartyr as with other similar hotels they reported "great flow around the ground floor". This is in no small part due to the fact that the concierge use luggage trolleys which require the same sort of access and features as wheelchairs – dropped kerbsides, flat wide entrances and carpet free flooring all help to ensure the public areas are easily navigated.
A big but not unexpected disappointment in the bedroom was the bed height, which was far too high to enable a safe, comfortable and easy transfer from the wheelchair. This is a common observation for Michael who noted that "the higher the cost – the higher the bed" rule seemed to apply. The bathroom with a fixed and dangerously slanted shower seat, and a high out of reach shower head, also failed to impress on this occasion. Is a universal shower chair such a big ask in 2021?
A 5-star hotel with a 5-star pool is something anyone would look forward to after a day exploring the great outdoors, and Michael and Leona are no exceptions. With no hoist meaning no pool access for Michael this very common problem not only discriminates against Michael as an individual, but also against them both as a couple as they could not enjoy the pool facilities in the same way as any other paying couple.
The Youghal Eco Boardwalk was one feature in Co. Cork they would describe as 5-star. As with the boardwalks they encountered in Donegal they were able to enjoy this 2 km long eco-friendly facility without any restrictions to worry about. An example of how good accessibility can be – if done correctly!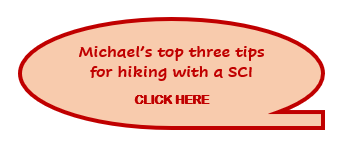 Make sure to follow Michael and Leona's extensive travels and view accessibility updates on their Instagram and Twitter feeds @thestruggleiswheel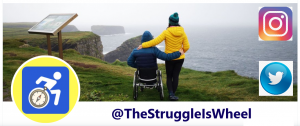 Have you a travel story to share? Email: [email protected]
DF 16/12/2021