Almost two years since travelling anywhere outside Ireland, I flew to Thailand in Mid-January last (2022). In that two year stay at home I had gotten myself a new power chair – A Quickie 500R (rear wheel drive).
So, the plan was to bring my powerchair all the way to Thailand. Not so easy. Past experience has thought me that, depending on airlines, there are always issues with weight and batteries when travelling. Dry cell batteries are the best as Lithium are problematic for Airlines. I could have looked to rent at my destination but again experience has thought me that one may not get the chair that one is used to, or cost can be a factor. I think most people would want to bring their own chair.
Upon arrival, I usually head for the Airline check-in, who in turn contact OCS who provide mobility assistance. Alternatively, you can go straight to their reception desk in either terminal. Emirates are pretty good when it comes to travelling with a power chair, but it is always a stressful time when checking it in. Discussions by staff and repeated questions regarding the battery always ensue. This time was no different but, in the end, I was on my way.
With most airlines you can choose to stay in your power chair until the gate. At the gate in my case, I had to transfer to a skychair (very small onboard chair) with the help of OCS staff and then into my seat on the plane. Again, I find the likes of Emirates, Etihad and Turkish Airlines very helpful on board when I may need to use skychair to toilet on very long flights.
Next stop was a transfer stop of three hours in Dubai. Accessibility staff met me on board, and I transferred to a wheelchair and was taken to the mobility assistance lounge. I usually don't request my power chair to be taken off at transfer Airports as it is already stowed in a box which will be transferred to next flight. Final stop was Phuket and arrival went well and the chair was in one piece.
It is difficult to get from Phuket Int'l airport to any of the beach resort destinations in a power chair. I have used what I think is the only operator of a minivan with ramp on the Island. This I had booked and they collected me. They also rent equipment, so I also booked the use of a commode(www.phuketaccesstravel.com).
Because of the Covid restrictions on my "Thailand Pass" (no longer needed), I had to stay in a specific hotel for one week, "Patong Resort" in Patong Beach. They have several wheelchair accessible rooms in their garden zone. There are a number of Western chain hotels which have accessible rooms and bathrooms (Ibis are very good).
One has to be careful booking hotels and guesthouses when the say yes to that question, as "wheelchair accessible" means many things to people. I usually ask for a photo of bathroom with dimensions before booking.
Access to taxis, kerbs, restaurants, bars and hotels can be challenging for power chair in Thailand, but this I find in many places and it is just a case of research and the looking around in one's destination. There are accessible toilets in most shopping centres (and there are lots of them in Thailand) which usually very good and clean.
I was in Phuket for ten days, mostly spent relaxing on a practically empty beach in glorious heat. I wandered around Patong Beach observing what was open or closed and all the changes in the last two years.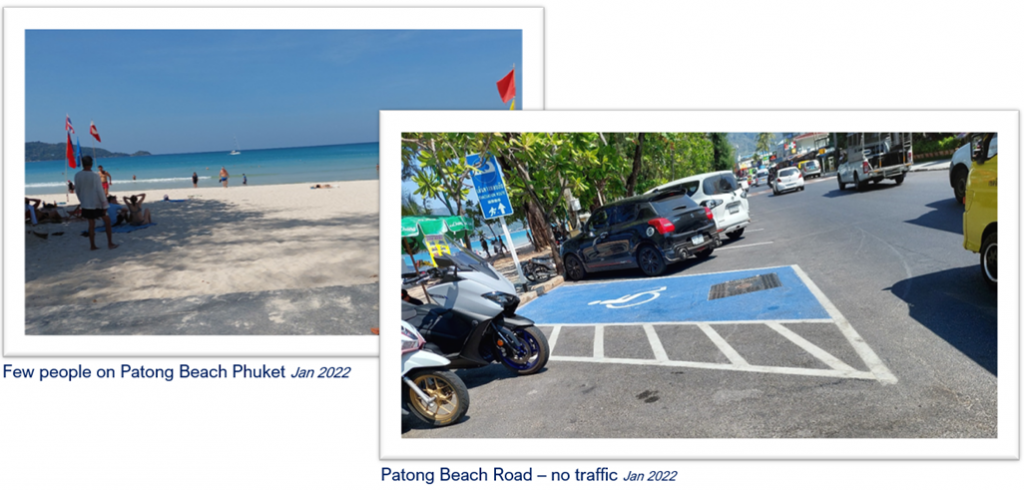 One very noticeable thing was that (due to Covid) I had the place to myself. Just a trickle of tourists were present before the place reluctantly re-opened up to travellers.
I had booked a Thai Airways flight from Phuket to Bangkok where my wife and family were waiting for me. (My wife is Thai and travelled a month earlier to see her family). My flight was domestic and this where there can be a lot of hassle for a power chair user.
Thai Air's service is run by Thai Smile. I use this service because simply put, most low fare domestic airlines usually refuse a powerchair user. Spend about 100 euro on return flight with Thai Smile, ring or email their special assistance about 72 hours before flight and have your wheelchair manual with you.
I had planned to use public transport to get from Bangkok Airport to the city centre, as it is difficult to get a taxi that will carry a power chair. There is a rail link that takes you into the city. All perfectly accessible. Depending on where you stay, you may have to change to the BTS skyrail system which again, is very accessible with many stops having elevators direct to street level.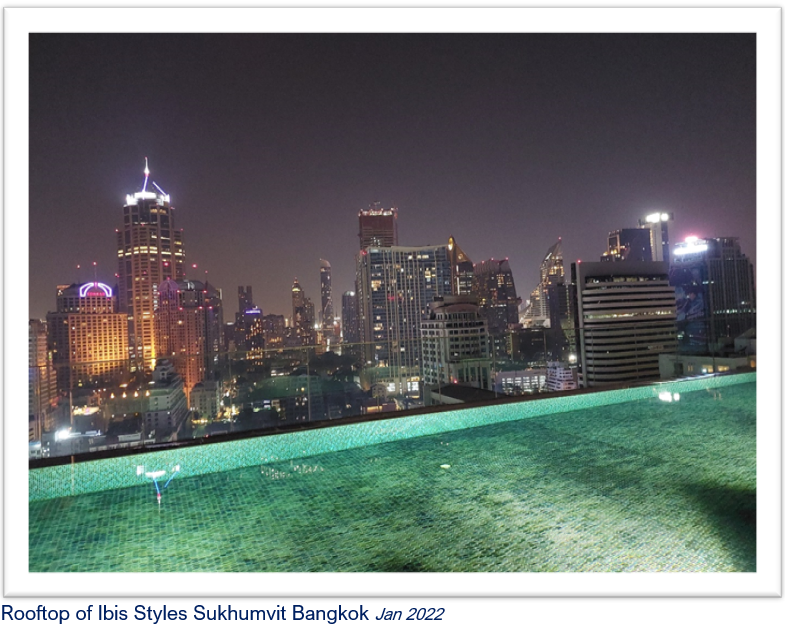 My hotel was an Ibis Styles on lower Sukhumvit road. This area is more or less where most travellers would stay for hospitals, shopping, restaurants and nightlife. The place was the quietest I'd ever seen Bangkok. No traffic either which was great as while there are many accessible pavements, you still need to use the road to avoid obstacles. I had the city to myself, so I visited many places of interest using public transport.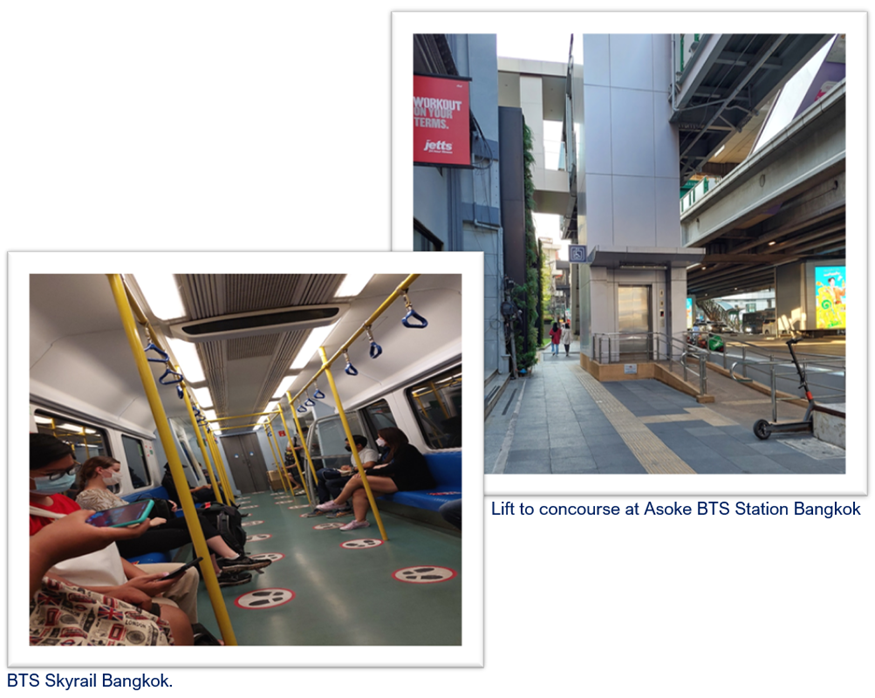 The skyrail service (BTS) links with a very impressive underground service (MRT) not forgetting the water taxi. There are also Blue coloured busses which are accessible.
www.wheelchairtours.com are based near Bangkok and offer a range of minivan trips, equipment for rent as well as personal care services. I was able to use their services on a trip to see my daughters University just outside Bangkok.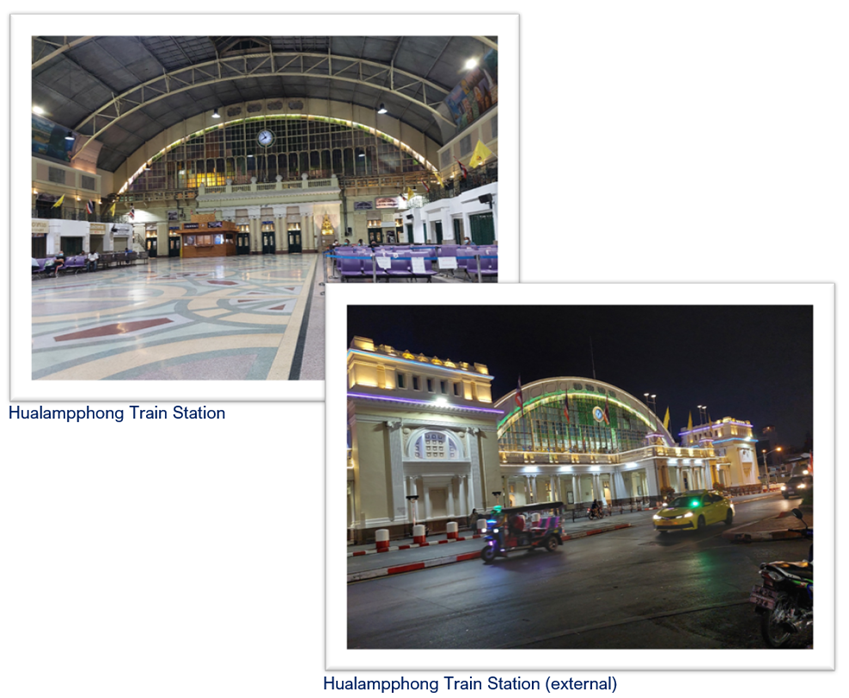 Wat Po and Chinatown are places I would recommend for easy access on the underground MRT. The famous Hualamphong Railway Station has some overnight sleeper services that provide wheelchair accessible services. Though these are limited, an example would be a late evening journey to Chiang Mai.
I had a great five-week holiday in Thailand and would highly recommend travelling there within the next year before the huge crowds are back.
I was there during what is termed High Season down the South (Nov-Apr) which is hot and no rain. Other times of the year can be quite pleasant and a little cheaper though, but you will get rain.
Bangkok can be hot and sticky, but most places have aircon. Remember, it is a massive city. Other things to remember – Sun, food and most of all the Thai people. While reserved and generally shy of foreigners, the local people are always willing to help anyone who needs it. They are genuinely surprised at the efforts mobility impaired people go to, to visit the country.
Addendum 
Anyone who requires medical attention can use safely any of the big international hospitals in Bangkok e.g. Bumrumgrad . They are like hotels but make sure you have medical insurance like VHI so that you don't have to pay upfront for any hospital stay. Elsewhere around the country there is a chain of hospitals by the name of "Bangkok wherever " e.g. Bangkok Phuket Hospital in Phuket and Bangkok Koh Samui hospital in …yes Koh Samui and so on. These are excellent!
Have you a story to share? Email: [email protected]
DF 13/10/2022