Spinal Injuries Ireland attract Cork businesses to 'buddy up' for awareness and education event
Businesses and public representatives in Cork are set to 'buddy-up' with service users from Spinal Injuries Ireland this Thursday, 13th October to learn about the many challenges they face in their daily lives including returning to work with a spinal cord injury.
Spinal Injuries Ireland is the only organisation dedicated to providing support services to over 2,200 people living with a Spinal Cord Injury (SCI) in Ireland. It provides a range of services and resources to help people and their families adapt to life after the devastation of a SCI.
Spinal Injuries Ireland estimate that three people sustain a devastating Spinal Cord Injury (SCI) every week in Ireland. Some lose the ability to walk and, depending on the level of injury, can also lose arm and hand function. A SCI can also result in serious secondary health issues including chronic pain, loss of body function, severe psychological distress and financial issues.
The experience is life-changing for individuals and their families who are suddenly faced with the cost of medical care, bowel and bladder care and pressure relieving equipment, along with specialist requirements such as a motorised chair, a bed hoist and adaptions to their car and home.
Participants who are supporting Thursday's education and awareness event include the Deputy Mayor of Cork County, Cllr. Deirdre O'Brien; Cork Chamber CEO, Conor Healy; William O'Brien, Wm O'Brien Self Storage; Colin Ross, Kinsale Spirit Company and Paul O'Mahony, Musgraves.
Each of the participants will 'buddy-up' with a Spinal Injuries Ireland Ambassador. The team of SII Ambassadors have sustained a SCI and are best placed to raise awareness and to provide an insight into the lesser-known challenges of living with this kind of injury. These challenges relate to employment, education, social challenges, the lack of access to medical cards and accessibility.
"Research shows that the world of employment for people with a disability can be difficult to navigate. For people with a spinal cord injury in Ireland only 50% of people are employed post injury although over 80% were employed before sustaining their injury. That is why SII has developed this programme for companies so they can clearly understand all of the issues faced by people with a disability," said Fiona Bolger, CEO, Spinal Injuries Ireland.
Everyone participating in the event will start their day together with a breakfast briefing at Cork County Hall where they will be given a broad overview of what it is it like to live with a SCI.
Each of the SII Ambassadors will then join their buddy on a visit to the place of work. The work visit is intended to provide participating businesses with a deeper understanding of the challenges faced by those who have experienced an SCI when they return to work. It will also provide an insight into the type of support they can provide should a work colleague or family member sustain a SCI.
Deputy Mayor of the County of Cork, Cllr. Deirdre O'Brien, who will be participating on the day, highlighted how, "This is an innovative approach to raising awareness of spinal cord injuries and their consequences.  After all, it is far more than being unable to walk.  I have no doubt that the buddies will have a greater understanding of the psychological, social and work-related problems the SII Ambassadors encounter daily. I expect the representatives from the business and public sector to raise awareness of inclusion, equal opportunities and accessibility and consequently offer hope to SII individuals, their family members and friends. We have far too little knowledge of spinal cord injury and its consequences.  There is still a lot to learn.  For all of us".
It is hoped that by listening to SII's Ambassadors that businesses will be better able to identify and address gaps in their immediate knowledge and, where possible, to adapt as an organisation. The event is also aimed at helping companies to take action to support any employee who may be faced with the reality of having to adapt to life with a SCI.
Participants are contributing to Spinal Injuries Ireland who rely on public fundraising to raise 60% of their operational costs each year. This contribution will support the services that Spinal Injuries Ireland provides in the Munster region.
Rights free photographs will be available from Michael MacSweeney at Provision Photography.  Contact:   (021) 427 2884 or [email protected]
For further information contact:
Lucy Grant, Communications Officer, Spinal Injuries Ireland
Phone – 01 653 2180 or 087 2355597
Email – [email protected]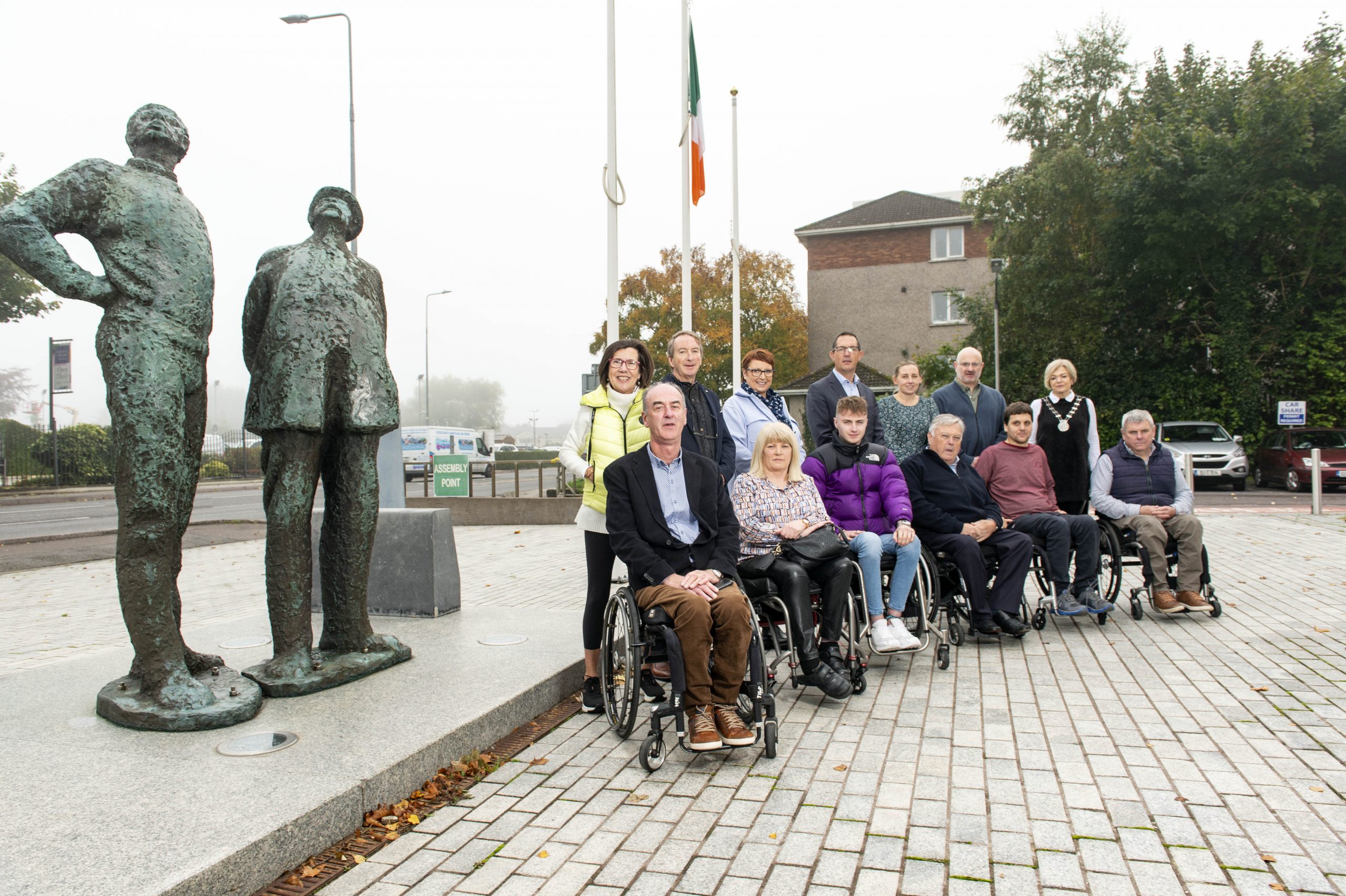 Back Row:
A Day in My Wheels Participants (L-R):  Dr. Anita Griffith (Mercy University Hospital), William O'Brien (Wm O'Brien Self Storage), Christine Dalton, Conor Healy (CEO Cork Chamber), Siobhan Kennedy (Musgrave Group), Colin Ross (Kinsale Spirit Company and Cllr. Deirdre O'Brien (Deputy Lord Mayor of Cork County)
Front Row:
SII Ambassadors (L-R):  Gene O'Keefe, Mary McGrath, Mark Dalton, John Twomey, Nathan Kirwan and Paul McCarthy.