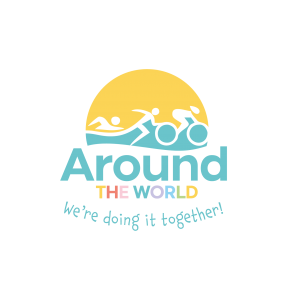 Will you help us to travel around the world?
2020 was a challenging year for Spinal Injuries Ireland, particularly in terms of fundraising. We had to cancel our much-loved Q Ball, Spring Lunch, Cork Jazz Ball, Summer BBQ, Tall Ships Adventure and even our new accessible cycle to Portugal. That said, we were blown away by the generosity and support we received from the spinal injury community in Ireland.
Summer is usually a busy time for fundraising, with lots of outdoor events taking place across the country. As these group activities cannot take place this year, we have partnered with iDonate.ie and Charities Institute Ireland to launch an exciting new virtual challenge that will will bring fundraisers across Ireland together, at a safe distance.
'Around the World' takes place on June 19 – 20th and the goal is to collectively travel the distance of the globe (42,000km) in 24 hours by rolling, running, walking, swimming, cycling…any movement counts and every little helps!  The only requirement is that your chosen activity is in line with current government guidelines on exercise and social distancing. The kms you pledge on iDonate.ie to Spinal Injuries Ireland will be counted towards the 42,000km 'Around the World' challenge target and all donations received will go to help support people living in Ireland with a spinal cord injury.
It couldn't be easier to take part. All you need to do is:
Let us know you're taking part by clicking on the button below (you'll then receive an email with all the details you need)
Decide what kind of a challenge you want to set yourself (this can be any distance and any level of difficulty, it's up to you. Always good to set yourself a hard but achievable challenge, and that way people will be most happy to sponsor you)
Email, post or WhatsApp the link to your new fundraising page to all your friends and family asking them to sponsor you so you can raise money for people living with a spinal cord injury up and down the country
Join us on either the 19th or 20th of June to take part in the Around The World challenge! At the end of your challenge, you go onto your personal fundraising page, input the number of kilometres your completed, and this will be added to the overall tally. Hopefully, if enough people take part in this relay challenge, together we'll make it all the way around the world!
Share a photo of you completing your challenge on social media using the hashtag #doingittogether and #spinalinjuriesireland