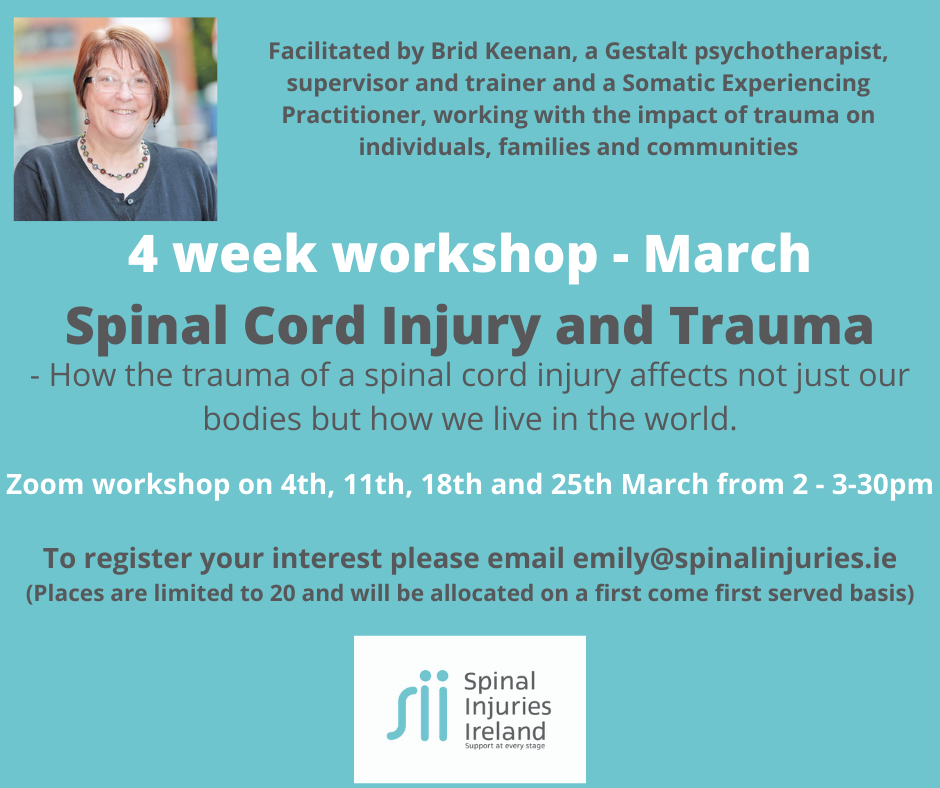 We are running a four week course in March on Spinal Cord Injury and Trauma. The course will be facilitated by Brid Keenan, a Gestalt  psychotherapist, supervisor and trainer and a Somatic Experiencing Practitioner, working with the impact of trauma on individuals, families and communities.
The purpose of this program is to offer support to people who are living with spinal injuries to support an understanding of how trauma affects not just our bodies but how we live in the world.
The course takes place on the four Thursdays in March – 4th, 11th, 18th and 25th – between 2pm and 3.30pm.  It is free to all our service uses but is limited to 20 places so we will allocate these on a first come first served basis.  It is recommended that you attend all 4 weeks.
To register your interest please email emily@spinalinjuries.ie
Week 1 (4th March), we will look at what happens when trauma occurs and how we survive in the aftermath of terrible events.
Week 2 (11th March), we will look at issues of chronic pain
Week 3 (18th March),  we will look at the impact of surgical intervention
Week 4 (25th March), we will look at what happens to our sense of self in the aftermath of life changing events
This is an outline of some of the things that you might be interested in but it may not run exactly in this order and some areas will have a stronger focus than others, reflecting the needs of those who attend.
Participants will be encouraged and invited to bring their own experiences for consideration when we look at the impact of trauma.