Martina's story – Living with chronic pain after a SCI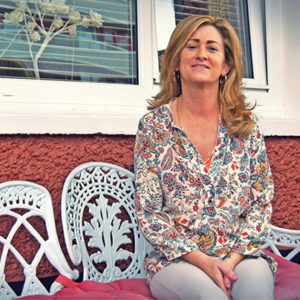 Martina Curtis (51) from Dublin sustained a spinal cord injury in 2012 when she was 47 years old.
Martina was attending a 50th birthday celebration at her sister's house when she jumped onto a trampoline with her nephew and fell the wrong way.
The fall resulted in her sustaining a C4/C5 spinal cord injury which meant that she was paralysed from the neck down.
Martina was also involved in a car crash a few months previously which impounded on her injury.
Martina was rushed to the Mater Hospital on the day of her accident where she was admitted as a patient for a month and a half. She was then transferred to the National Rehabilitation Hospital in Dun Laoghaire where she worked hard to regain her mobility for a number of months.
"I was lucky to recover a lot of mobility but it was hard work and it is still hard work," explained Martina.
"I am walking now but it is a struggle. I still have to do a lot of exercises and walk regularly; my right side is very weak and I can't really feel anything on my left side."
Martina explained that although she is walking, she deals with chronic pain that can be overwhelming at times.
"The hardest part is the pain. I have never experienced anything like it. It's not like a normal pain, it's in your body and it's horrible. You can't concentrate. I never know what way it's going to go each day.
"I'm in pain everyday but most of the time I've learned how to handle it. The medication I take on a daily basis puts a coating on it but it doesn't put a coating on it all the time."
Martina explained that there are times when she experiences spasms from head to toe.
"Sometimes it gets that bad that the pain is everywhere and I have to go to bed because it just kind of flakes me out. When I'm in an awful lot of pain it leaves me exhausted."
Martina explained that sometimes she wakes up in the middle of the night in pain and finding ways to handle it can be difficult.
"If I wake up at 3am in pain, I won't turn on a light or a TV or anything. I have a TV in my bedroom that I could just turn on and sit in bed and watch it but I don't. I come out into the sitting room and I just sit with no lights or anything on. When you're in high pain, you just can't bear anything."
Martina explained that her spinal cord injury has changed her life but she tries hard to remain hopeful.
"It has changed my whole life but I'm walking. I could have been in a wheelchair so I'm very blessed. I manage, I get there. You just have to learn how to live with it."
Martina's experience of chronic pain is an all too common issue for people living with a spinal cord injury.
It is a particularly difficult issue to deal with as many people struggle to control their pain levels through medication and exercise. In addition, it is a hidden issue that often is not taken as seriously as it should be.
It is an ongoing struggle for people like Martina as people look at her and presume that because she is walking she has no complications from her spinal cord injury.